As a student, I heard the line 'graduate school is stressful' so many times that it began to bear no meaning. And forewarned is not always forearmed: when I started to find the pace and demands of my programme crushing, I wasn't prepared to handle the pressure, even though I recognized what I was going through.
Sure, there were campus resources that encouraged healthy behaviours, including meditation, and emphasized the benefits of self-care, but self-care sounded expensive and time-consuming to me; I had work to do. And I was not a fan of meditation: the mere thought of sitting still for 30 minutes only caused me greater stress. But one thing I couldn't shy away from was walking my dog.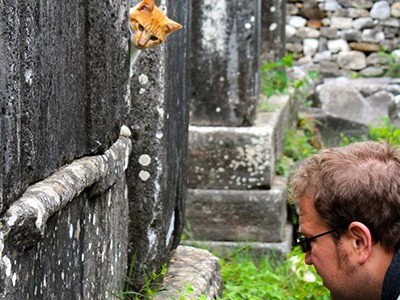 Meet the street animals that stole scientists' hearts
Tessa is a stubborn, six-year-old coonhound and Labrador mix that I got as a gift to myself, for completing my undergraduate degree at the University of Rhode Island in Kingston. I first saw Tessa as a scrawny, spotty puppy in a photo on Facebook. She was found, huddled up with her litter mates, on an abandoned property in Alabama. She made her way to me in New England with the help of a network of dedicated volunteers. Since then, much has changed in my life — among other things, I have successfully finished my graduate programme, moved halfway across the country, and made a career change. And Tessa has been by my side for all of it.
Canine company
Because of Tessa, I took frequent walking breaks while studying for a master's degree in public health at Yale University in New Haven, Connecticut. I discovered the best nooks and crannies on campus, including the sloping lawn behind the divinity school, filled with squirrels and sticks — a dog haven. I stumbled across a looming, solitary elm tree with a swing, overlooking the Yale Peabody Museum of Natural History, that offered the best sunset view in town. I became friends with fellow canine enthusiasts at the local dog park. On our daily walks, I found calm in the woods and quiet in the early-morning stillness enveloping the city streets. In short, my dog helped me to spend time away from graduate school.
Let me repeat: I spent time away from graduate school. I emphasize this, because we don't hear it enough as students. It is a sentiment I wish I had heard from day one of orientation.
When taking Tessa for her daily walk, I allowed myself to not think about upcoming exams, my research or publications. Instead, I noticed the changing colour in the leaves, the intricacies of the moss on tree roots and the chipmunks racing around crumbling stone walls. I found bliss simply in the act of rambling through the woods. After our walks, more often than not, I was able to bring that sense of calm back to my work and more successfully tackle the demands of graduate school.
Pandemic pup
Since graduating in 2018, I've also incorporated yoga into my self-care regimen, although COVID-19 restrictions mean that for now I can't practise it in my favourite yoga studio. But the simple act of taking a walk and breathing in fresh air is something I can do.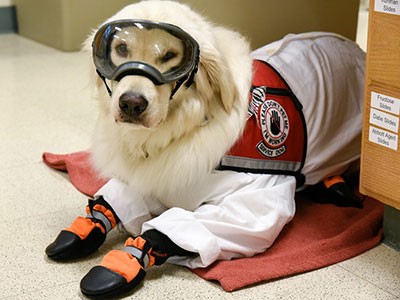 Let the dog in: how institutions and colleagues can help scientists who require support animals
I am not alone in having found a new level of appreciation for the animal in my life since lockdown began. A study published last year in the Journal of Behavioural Economics for Policy found that pets are helping us to cope in remarkable ways: more than 90% of pet owners reported feeling relaxed after cuddling or patting their pet1. It is no wonder that during the pandemic — a time of increased isolation and decreased physical contact — rates of pet ownership have skyrocketed.
Now, as I work from home as an epidemiologist, Tessa continues to help me cope with a more solitary existence as the pandemic wears on. Just like in graduate school, she demands that I stop working, however briefly, and escort her on a walk. These forced breaks throughout the day take me away from my computer and help me to stay active, greet my neighbours and come back to work refreshed.
Although much has changed in my life since graduate school, one thing has remained constant — daily walks with Tessa. And although I certainly haven't escaped stress, and I am still trying to find my footing in research, I will continue to make time for walks every day. I thoroughly recommend it.